Reviews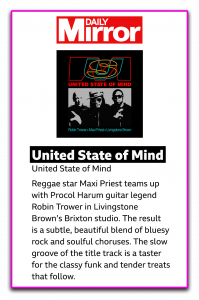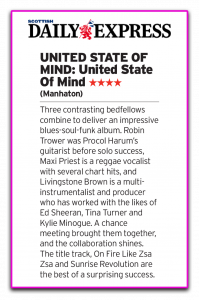 Scottish Daily Express:
" Three contrasting bedfellows combine to deliver an impressive blues-soul-funk album. Robin Trower was Procol Harum's guitarist before solo success, Maxi Priest is a reggae vocalist with several chart hits, and Livingstone Brown is a multi-instrumentalist and producer who has worked with the likes of Ed Sheeran, Tina Turner and Kylie Minogue. A chance meeting brought them together, and the collaboration shines. The title track, On Fire Like Zsa Zsa and Sunrise Revolution are the best of a surprising success." David Esson
---
Daily Mirror:
Reggae star Maxi Priest teams up with Procol Harum guitar legend Robin Trower in Livingstone Brown's studio. The result is a subtle, beautiful blend of bluesy rock and soulful choruses. The slow groove of the title track is a taster for the classy funk and tender treats that follow.
---
Music-News:
"From the very start there is a soulful groove with the title track kicking off with some gorgeous strings, a gentle funk to the song's groove and Priest's beautifully sweet vocals. Trower's wahwah lines are subtle and the song grabs you right from the off. It continues with 'Are We Just People' which has the feel of a 'Superfly' era Curtis Mayfield: emotional, gentle and buoyed up by deliciously produced strings. In fact, the whole album has the essential elements of classic era soul – picking up a bit of Marvin Gaye here or Phillysoul there – but it stands brilliantly in the modern day and I really can't remember an album I enjoyed listening to as much in ages.
My personal favourite track is 'Walking Wounded' with a great vocal from Maxi Priest. The number is harrowing and dark, the strings just bringing the mood lower and lower and Trower delivering an absolutely agonizing solo. Hard to listen to but absolutely wonderful too. This should be on everyone's player this year – it is a simply fabulous recording."  Andy Snipper 5/5
---
Devilsgate Media:
"Nine-tracks of blissed-out, soulful music that whisks the listener away to a place where everything is alright, alright, alright. In places, it's Marvin Gaye, Curtis Mayfield, or Bobby Womack performing with a bad-ass guitarist alongside them. You could even trick someone into believing that the opening moments of the lush title track feature Paul Rodgers on vocals. The guitar work from Trower is gorgeous, a wonderful exercise in restraint that every budding guitarist should be made to study. His playing is warm and rich, and when the wah-wah starts to cry ('Are We Just People'), it's truly sublime. Often dictated by Livingstone Brown's sweet bass licks ('On Fire Like Zsa Zsa' should have bass merchants purring with delight), the pace of the album is so laidback that it glides rather than walks. After a few spins of moments such as the aforementioned 'Are We Just People', 'Walking Wounded' (just shading it as the standout track of the nine featured), the atmospheric horns on 'Hands To The Sky' (which comes complete with a lyrical tip-of-the-hat to Marvin Gaye), the beautiful string arrangements on 'Bring It All Back To You', and the throbbing, pulsing feel of 'Good Day', the listener should be cured of all that ails them.
A beautiful, harmonious album that is just what the Dr. ordered to help navigate these uncertain waters."
---
Rock and Blues Muse:
"The album is a brilliant mix of contemporary blues and R&B with hints of rock, showcasing Priest's soulful, silky vocals, Trower's emotive guitar playing, and Livingstone's 'Midas touch' on production. The musicianship is superb, as are the nine tracks. United State of Mind hits on all cylinders—songwriting, vocals, musicianship and production. Trower, Priest and Brown have captured some kind of magic. I hope they will continue on their musical journey together and release more albums. Highly recommended. Martine Ehrenclou
---
Raw Ramp:
The title track is a jazzy blues / funky groove number that offers oodles of internalized hoodoo in its soul… to make all the frazzled mulligrubs you probably collected over this madcap year disappear. This is a decorous and dignified album of graciously exquisite sounds presented by three superlative talents. The songs will steady your nerves and settle your jitters. Pure velvet harmony… Neil Mach
Red Guitar Music:
"Livingstone Brown is the glue that holds USM together utilising his bass and keyboard skills alongside his duties as the producer on as soulful a record as you're likely to hear this year.
Robin Trower's effortless, languid playing is an object lesson in less-is-more. Guitarists who feel the need to play a million notes a second would do well to check out Trower whose unhurried approach (occasionally you're almost wondering when the next note will arrive) perfectly fits in with the feel the trio are aiming for. It's far from a one-man show though as all three members of USM pull their weight and then some; Priest sounds great, Brown's bass playing is tight as a drum and the horn and string arrangements add to the songs rather than distract from them. Fans of classic 70s soul and blues acts will find much to enjoy here, so my advice is crack open a bottle, light a candle, dim the lights and go with the flow."
---
We Bleed Music Media:
"This album and group came together through mutual respect for each other's talents, and they have not only crafted here an incredible piece of work but an album that is destined to be a classic."
---
Geoff Wilbur Music:
"This is a smooth, relaxed R&B album with good, old-fashioned, big, rich, lush production, but still very song and artist-focused, able to appeal to a broad musical audience. So put the headphones on, sit back, relax, and let your ears enjoy."
An In-depth interview and review of United State of Mind from John Masouri who joined Livingstone Brown in the studio as it was recorded: